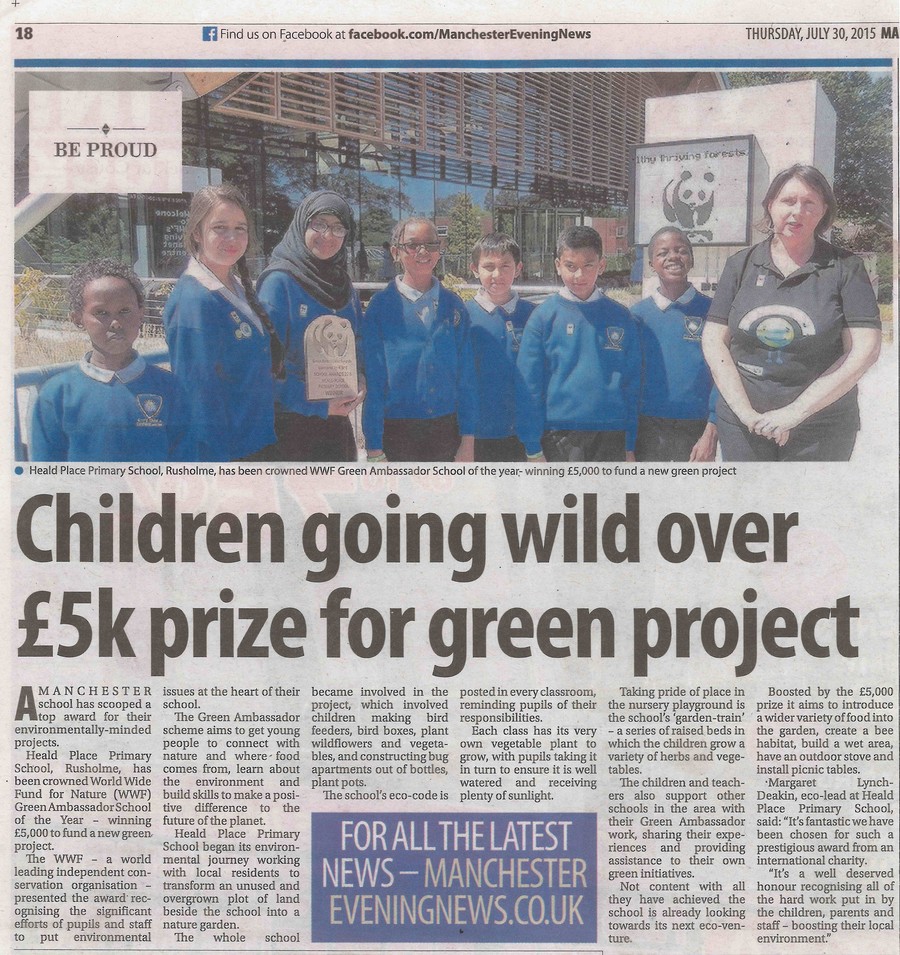 WWF Green Ambassadors 2015 award winners announced webpage
Heald Place Primary School, Manchester – overall winner

Since winning the encouraging wildlife award last year, Heald Place Primary School in Manchester have taken huge strides forward by sharing their passion and commitment with their local community and other schools.

Situated 10 minutes from Manchester city centre, in a diverse urban area, the school has undergone a period of rapid growth from 400 pupils in leaky Victorian buildings to a thriving, happy and active learning environment with 600 plus pupils and state of the art facilities. With so many languages and cultures in the school, the sustainability agenda has been something that everyone can share and contribute to.

It goes without saying that a school operating at this level has fantastic waste, water and energy initiatives and encourages wildlife into their grounds and has amazing growing areas, but the particular highlight for the judges this year was the very clear commitment to incorporating sustainability into the curriculum. The progression through the curriculum is exemplary and results in children leaving year 6 with a wide knowledge of the issues and having the opportunity to get practical skills too.

One of the key ingredients in Heald's success is the way that this work is supported at the highest levels through the senior leadership team. The governors in this school are really hands-on too, one of them spending a whole morning in our very hot panda suit to support our visit to the school.

Some of the WWF team have been lucky enough to visit the school and it had a profound effect. If this school was a stick of rock, sustainability would be at its core and it is a very worthy winner of the Green Ambassadors of the Year.